PSTEC for Bulimia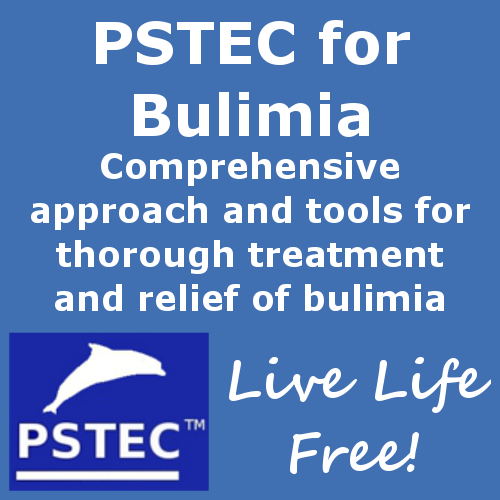 Bulimia treatment… making use of PSTEC
This audio is a large and comprehensive self help system for bulimia nervosa. It incorporates many other strategies as well as PSTEC and for this reason it's an optional extra.
Note: As a therapist Tim Phizackerley specialized in treating Bulimia Nervosa for a number of years.
(L*** had been having problems for years. She was a likeable and attractive young woman in her mid twenties who purged by means of taking laxatives and had binged and purged every day for years. She was at her wits end with it and desperate for help. She was trying to get assistance from the NHS but had waited so long she decided to try "something else" and hence decided to try hypnotherapy. She didn't have high expectations but was absolutely delighted with the results. Number of sessions: 1)

"I came to you on the 4th June for a session and found it so successful. It is hard for me to remember my thought process' before I came to you because they were so atrocious. My whole attitude has changed sooo much I am still getting used to my new eating habits now. …I know it has only been 2 weeks but I have never gone 2 weeks in the last 4 years without bingeing and purging. Thank you so much for your help, I am very grateful for everything you have done for me."
L***, Anonymous Client
(S***** was doubtful about hypnosis but very unhappy and needed help. The initial contact had been made by her mother. Tim agreed to take her on because he believed he could help her escape the nightmare of her eating disorder. At the time Tim saw her she was feeling very depressed and was drinking in excesss to try and cope with the depression. (The depression was being caused by having her eating disorder). As usual Tim did just one session which in this case was briefer than most but got the expected excellent results. This feedback was received 3 months later and she was still very happy. Number of sessions: 1)

"Tim, I didn't think hypnotherapy would be for me, but after one session it really REALLY made a difference to the way I think about and react to food.
My thought processes have completely changed and I can't believe what a massive effect it has h ad on my life…
It's nothing like I expected, made a lot more sense, and I only wish I'd done it sooner…"
S*****, Anonymous Client
(K**** had lots of questions as well as several reservations. She was bingeing and purging every day and had been for years. She had tried more conventional approaches with no success and had nothing positive to say of her experience of psychologists. She asked a lot of very intelligent questions and was motivated, honest and cooperative which is a requirement for success. She travelled a considerable distance to see Tim but was evidently delighted with the results. As so often happens, she still couldn't quite get her head around how exactly how it was possible to be helped so completely. Number of sessions: 1)

I know it has been less than 24 hours since I saw you but I simply had to contact you to inform you of how wonderful things are!! Yesterday was the first day in over five years that I was not sick. When I left yesterday I felt a bit indifferent, not sure whether it had 'worked' or what and when mum rang and said 'are you cured then? I thaught, well I hope so, its dificult to say, I think maybe I am, but then wow, whilst driving home I noticed how I was thinking about things soooo differently. I stopped to get fuel and instead of my old thinking of what/how much food I could buy from the garage etc it didnt even cross my mind! I went home, felt hungry at around six so made a healthy tea, enjoyed and really tasted every mouthful and then that was it, forgot about it and decided I was off to the trafford centre late night shopping to treat 'the new me'. I never really thaught about food for the rest of the evening until I got home and decided I was a little peckish so had some fruit and a hot choc before bed, its totally strange, I really can't believe it, everything is different and so so much better. I feel great about my self, as you said, I feel confident and like I am 'dazzling'!! I'm not quite sure what my boyfriend quite knew what to think when I got undressed for bed with the lights on rather than off, something I would never have done before but I thaught to myself, I have a nice body and why hide it! Similar thaughts must of being going through my head when I baught a brand new and rather revealing dress shopping last night, I thaught to myself, 'I can wear that, why not'! I seem to be more motivated with everything, when my alarm went off this morning, instead of my old thinking of 'I really dont want to get up, I am not ready to face the day, I simply thaught 'oh better get up, things I want to do and want to make a start, I felt refreshed and alive and in years I have never felt like that!!
I cant thank you enough for how much I know you have helped me. I know for a fact I will never engage in those silly behaviour and thaught patterns again. Your work is truly amazing, it really is. You deserve a medal for it and I will be eternally grateful. Your work is so so valuable. ….I know things have changed so much and I just had to let you know. thanks so much."
K****, Anonymous Client
As Tim's' ability to correct bulimia had become more and more well known his prices rose substantially. For this reason and in order to make sure that nobody was "priced out" Tim created a complete self help audio system for correcting bulimia nervosa. It's that system that's available here. It's a large system comprising several hours of audio. It can be used for self help or if you happen to be a therapist, you can study it for use as the basis of an effective one to one therapy.
The very successful American hypnotherapist Kaben Starre, who works fairly close to Hollywood has taken an interest in Tim's work and in the methods he has have developed. Sincere thanks to Kaben for having conducted things so thoroughly and also for having the requisite skills to use the techniques.
Here is the feedback he gave regarding Tim's method for clearing bulimia.
Hi Tim,
I'm writing to say how well your audio program worked. As a hypnotherapist for the past 29 years I have tried to help a number of people with Bulimia and have had zero success. This is inconvenient since half my clientele are in the movie industry. Many have needed help with these eating disorders. They need it to be done with strict confidentiality and that is not very likely where there are large staffs at in-patient treatment centers.
As you know, I did everything I could to get out of treating this client, because of my past failures with Bulimics, and even tried to talk her family into my flying her over the pond to be helped by you at my expense. Since this well known family would not allow it, for fear of a scandal, I reluctantly took on the task armed with your audio program and your advise.
I invested a week studying and memorizing and rehearsing all of your phrases and your delivery. Over a two day period client and I worked through everything while following your audio program closely. We finished the program and she was off to her home in Manhattan and her best friend's birthday party later that week. I was concerned about the party because everyone binges at a party… don't they?
Remember now that this girl has had been in bulimia hell for ten years and has been to two rehabilitation centers where she received traditional medication with cognitive behavior therapies; both for six week in-patient programs. Not only did both fail to help my client but they actually made her worse off because they made her absolutely convinced that she could not be helped. They also charged more than $30,000 at each clinic! She said she did multiple purges the very days she left both centers.
Tim, your program has had nine days of success after only two days of treatment!
I spoke with her just today and she is positive that her binge/purge compulsions are gone forever. Her family is delighted, she is amazed and I am more so.
The brilliant effort you have made to put your expertise and wisdom into this truly effective program is obvious. I am not surprised that it is so effective since you are clearly Britain's authority on these conditions. What I am surprised at, however, is the compounding effectiveness that each module builds in the user while at the same time being so easy to use. Just load the modules into an MP3 and go from one to the next module and do exactly as instructed. Repeat any module you need to!
Why people are going through life in bulimia/Anorexia Hell or still going to the traditional, complete-failure treatment centers to get help when you and this program are right there is what surprises me more than anything, I suppose. Thank you soooooo much for giving me access to it.
Best Regards,
Kaben Starre, C.Ht.
Managing Director
Miracles Hypnosis Center
11374 N Fox Hollow Trail,
Prescott, AZ, USA 86305
928-717-0119
( Note: The audio program Kaben refers to is Tim's self help audio system… available by clicking on the "Buy button below")
Kaben is based quite close to LA and Las Vegas and anyone in the USA wishing to benefit from the "Phizackerley Method" of clearing bulimia may wish to consider contacting him.
The processes Tim uses are designed to systematically dismantle the framework that exists below conscious awareness and which constitutes bulimia nervosa.
This audio system is several hours long and as such it's approaching 100mb in size.
You will need broadband to download it.

Buy Now for ONLY $67.00