The PSTEC Advanced Audios FOR THERAPISTS ONLY!
(This is the advanced follow up to PSTEC Level 1)
Introducing Advanced PSTEC tuition (PSTEC Level 1A*) from Tim Phizackerley the creator of PSTEC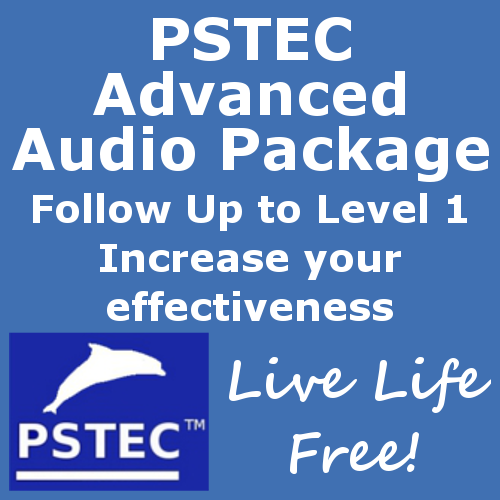 How amazing was it when you first started using PSTEC with clients and showed you that that therapy can be easy and powerful all at the same time.
Therapists should start with PSTEC Level 1 but there's even more, so next let me show you what you're missing.
This PSTEC Advanced audio package takes you further again and I'll show you how to be even more effective.
You'll also get two very important extra tracks which come only with this package.
Anyhow, I reckon that before you decide to buy this, you should know exactly what's on it. So I'm just going to lay out exactly what's in this package for you and then you can decide how much you need this.
This is what you're getting:
Audio 1. PSTEC Advanced: Advanced Practical Use of PSTEC
Quick theory recap in the context of PSTEC
The PSTEC method for children
Discriminating between emotions and beliefs
Creative targeting of feelings with the click tracks
PSTEC and gambling
PSTEC and chocolate addictions
Which click tracks to use and when
Source of emotions
Using PSTEC to change habits
Changing habits with simple pattern interrupts
PSTEC click tracks and the process of compounding
PSTEC Positive, repetition and hitting tipping points
Advice on type of suggestions for use with PSTEC Positive
What does PSTEC Positive do within the client?
PSTEC and procrastination
OCD & PSTEC (Special instructions)
Knowing exactly when to use PSTEC Positive
Emotions, beliefs, habits and causes
How to use PSTEC to work with behaviors
A simple and effective way to identify causes which are outside of conscious awareness (This is a quick and easy alternative to hypnotic regression. It requires no special skills and can be used to retrieve information from within the subconscious, without hypnosis)
Working with emotional pyramids
A specific way to deal with a specific example of an anchored problem
Emetophobia & PSTEC (Special instructions)
Agoraphobia & PSTEC (Special instructions)
What to say to remove client barriers and resistance
What can happen when instructions are deviated from
PSTEC, physical pain and the body
The two types of physical pains on which PSTEC might be used
Brief overview of how to use PSTEC for pain
Safety considerations
A remarkable example of the power of the mind/body connection.
How to use "The Anger loop"
Audio 2. PSTEC Advanced: The Mind Model
There are lots of fascinating firsts on this audio including an explanation of the Esdaile state. You'll find out why it comes with an automatic anesthesia! Understand much more about PSTEC Positive. Discover why other therapies fail, and find out how to make your talk therapies much more effective. Apply this knowledge to your use of PSTEC to create even more wonderful changes.
What's possible with therapy
The 3 levels of mind
Self awareness
Types and allocation of memory
Limitations of the conscious mind
Relative speeds and abilities of the subconscious versus conscious
How we learn
Offloading of functions
Routines and habits
Distinction between awareness and conscious functions
Proof of consciousness below awareness
Essence of personality
Source of emotions
Interesting aspects of alcohol and the mind
Consciousness without awareness
Computer like aspects of mind
Neutrality of subconscious
Storage of experience
Protective aspect of mind
Pattern matching and anchors
Basis of language
The two language processors
Distinction between the two types of experience
Imagination and language
How the mind models the world
Predicting outcome of actions
The mind as a prison
Most important aspect of goals
Imagined realities.
Knowledge and belief.
How beliefs are constructed the exact mechanism
Subconscious and belief construction
Conscious and belief construction
Suggestion and beliefs
How information is filtered
what is hypnosis?
Natural occurrence of hypnosis
Misapprehensions
What is depth?
The nature and importance of the inner voice
Flow of information between conscious and subconscious
How experience and language are validated
The two data streams which flow into the human mind
Validation of the data streams
The nature of consciousness
Why suggestion can remove physical pain
The remarkable characteristics of the Esdaile state
Automatic anesthesia
The Esdaile state and therapy
Best state for suggestion
The reason for all the characteristics of the Esdaile state
Anesthetics and suggestion
The consciousness switch
Hypnosis attached to sleep
Number of emotional processors
How we relate emotionally to past experience
Why this knowledge is so important
How to create the most effective therapy interventions
Plus!
Audio 3. The PSTEC Pain Click Track
This is a special click track which comes only as part of the advanced audio package. PSTEC Pain is a PSTEC click track designed for certain types of physical pain. Effective and proper use of this special track requires an understanding of the other Advanced audios. That's why it's supplied ONLY as part of this advanced system. It is NOT sold separately.
And, that's not all!
Audio 4. The Anger Loop
A very special and unusual PSTEC track. This can be used with certain clients to effect major change to anger responses. As well as being useful, this audio will show you just how easily The Mind Model can be used to create simple but extremely powerful interventions.
Optional use of logo when you have studied both PSTEC Level 1 and this Advanced audio. Letters: PSTEC Level 1-A (Advanced PSTEC)
Total: Approx 3 hours
Buy Now for ONLY $57.00