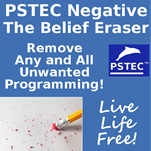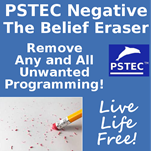 Free PSTEC Webinar Recording…
"The PSTEC Belief Eraser" is a tool which YOU can use on ALL the negative and limiting beliefs YOU want rid of.
It is totally unique and has taken five years of thought to put together and then test.
Key Features
Use the belief erasers on literally ANY limiting belief
Erase unwanted programming from your past
Enjoy total control with these tools
Use this ONLY on those on the beliefs you want rid of!
Weaken them or eliminate them.
The Belief Erasers go to work on whatever specific beliefs you decide to target for removal
Easy to use
Clearing resistance to shifting your perception… doing your change work … has just become even easier!
Watch the webinar recording below and find out more about PSTEC Negative – The Belief Eraser… Just click on the video below …
You can also listen to the mp3 audio version or even download it here…

Podcast: Play in new window | Download (Duration: 55:10 — 25.3MB)

Subscribe: RSS
PSTEC Negative: The Belief Eraser
(For use on negative and limiting beliefs)


Downloadable

mp3's and pdf's
Buy Now for ONLY $49.00