Can PSTEC Be Used To Stop Smoking?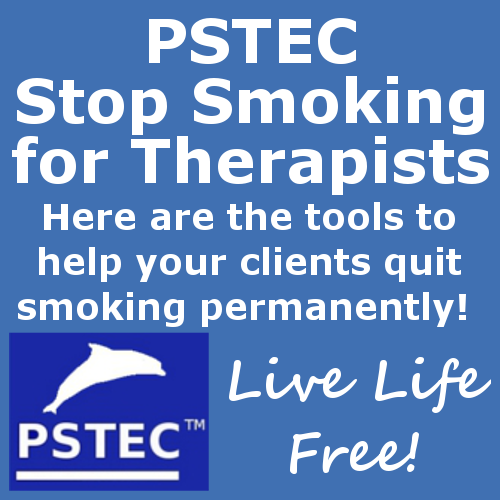 Yes, PSTEC can be used for stop smoking purposes but it requires some specialist audio. We all know that stopping smoking requires a degree of will power but now there is a specialist PSTEC audio package which can be used to stop smoking.
The stop smoking system is an optional extra because it contains lots and lots of very special audio. If you have experienced the effectiveness of the free PSTEC audios you'll be reassured and excited to discover that exactly the same technology has now been applied, to produce an effective and powerful system for helping people "stop smoking".
Hiya Tim,
This is one for you..lol..lol even though I have been a therapist for over 25 years Ive always had a problem with smoking (hung head in shame). I have recently tried to stop yet again and after all of my own suggestions and will power and imagery I failed dismally. Two weeks of hell.
I recently downloaded the anti smoking programme (therapists version) and I have been listening and learning all about it since. I did my 2 days smoke free and on the third day I was so ready to be switched off. High anxious state about 8 on the scale. Since then I cannot connect to it any more never mind think of smoking. I'm relaxed and stress free as regarding being a non smoker. Wish I had this 30 years ago.
Fantastic work Tim. I will be teaching everyone about this.
Kind Regards Mike
(Mike Wells, Morecambe Hypnotherapy Centre & PSTEC level 1 Practioner)
Enquiries is 07735089653. Email: mwhypno@yahoo.co.uk
(Note: Anyone near Mike can now benefit from his expertise and personal experience of success in using this system)
The PSTEC Stop Smoking Audio System (Approx 2 Hours)
Designed with therapists in mind, this system is an optional extra. It is an easy to use system which once again relies almost entirely on audio to create the most powerful results possible.
This system includes comprehensive instructions, a special primer, special click track, positive click tracks, session audio, additional information, etc…
So sit back, relax and let these audios do nearly all the work for you!
Smokers often spend $2,000 or more each year on smoking so it makes sense for smokers to stop.
A single stop smoking session with a therapist is typically $150 or more. But!
You can buy the entire PSTEC Stop Smoking System for your therapy practice to help people become a non smoker for far less than the fee from 1 session!!
You'll get the very special PSTEC audio you need for stop smoking treatment the easy and effective way.
And if you've tried the free audios you know just how effective the PSTEC methods are!
What are you waiting for?
This Download – Files size approx 74Mb
Let these bespoke, PSTEC stop smoking audios work for you.
Please Note: This package is designed for therapists but some people have applied this to themselves.
Buy Now for ONLY $62.00