Discover How the 7 Secrets of Maximum Power Self Hypnosis Can Create Happiness in Your Life
Self Hypnosis can utterly change you, and a wonderful GREAT happiness is possible through self hypnosis… but to experience this you need to know the simple steps.
Until now that's been a hit and miss affair.
Not anymore.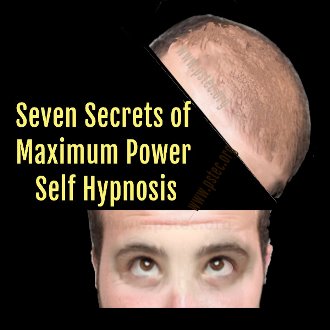 On this program you are about to learn everything you need to use self hypnosis, and you'll discover the things you absolutely must know, including also what not to do, PLUS you'll also get the SEVEN essential SECRETS for Maximum Power Self Hypnosis and the hows and whys.
Tim has carefully laid out everything in detail that you absolutely need to know.
He's stripped away the misinformation from other sources, and he's giving you a simple but very easy to understand program to deliver you outstanding results.
He's even talked about how to help children if you're a parent and he's also explained how to accelerate your own self hypnosis by mixing it with "Click Tracks".
Tim Phizackerley has been using hypnosis for almost 20 years and has been advertised as "Britain's Fastest Hypnotist". Now it's your own turn to begin the journey of a lifetime…
"I thought I would listen to a few files then bed. But Nope. I listened to it all.
You had me totally hooked.
Tim, I don't like it at all.. ok …I ABSOLUTELY LOVE IT.
Well done Tim and I hope you get hundreds of downloads, you must have put a lot of energy/thought and time into this recording… I'm plastering it everywhere on Faceache, my website and other places and asking others to please share.
I would call this.. shooting from the Hip as you explain everything in so much detail. No holds barred and you say it as it really is and it's about time this happened in Hypnosis and Hypnotherapy because there are far too many so-called Hypnotherapists who go on a few days course that's being let loose on innocent people…….. Your recording is packed full with easy to follow information and explained in every detail."
Mike Wells
Hypnotherapist
Here in detail, point by point is exactly what you're getting on this program:
Why you should use "Maximum Power Self Hypnosis" techniques.
Where to find videos to see and quickly understand the power of suggestion.
The widespread online misinformation about hypnosis.
Things that should make you stop and think and go "hmmmm".
Suggestion and how it actually affects you.
Hypnotic suggestion in your real life.
Hypnosis and how it relates to your own use of the internet.
Hypnosis in education.
Widespread uses of hypnosis through suggestion.
Understanding suggestion and emotion.
Suggestion being used in advertising and its effect on your choices.
Words have power!
Your natural level of "suggestibility".
The absolute proof that you are highly suggestible.
The usual ways that suggestion powerfully affects you.
Greater suggestibility to get hypnosis.
Scientific studies and hypnosis.
Organisations you should never trust and exactly why.
Why suggestion is fundamental to your human experience.
More absolute evidence that hypnosis works very powerfully.
Why it's essential to use the "Maximum Power" methods in this program.
Suggestion and hypnosis at work with examples included.
How to be sure your own subconscious is real.
The ongoing battle between your conscious and your subconscious.
Modelling your own reality.
The one thing you always do that you are not aware of.
Money and your model of reality.
The real life benefits of purposefully modelling your own reality.
How you learned things.
The five sources of information that your mind uses to understand reality
…and why those things are NOT your five senses!
Why your own reality is NOT real.
Understanding why surprises are very important to you.
How you can be 100% absolutely sure you can change.
What is really happening inside a school classroom?
How "black holes" in our space relate to hypnotism.
Suggestion versus experience.
How academic qualifications relate to suggestibility.
How other people are routinely exploiting your suggestibility.
(Understanding this helps you to defend yourself against it)
Why "I'm not suggestible" is absolutely ironic.
Your own critical analysis of suggestion.
What happens when you reject a suggestion?
What happens when you accept a suggestion?
Updating your own understanding of reality.
How change happens in your mind.
Repetition and suggestion why it's important for you.
What your subconscious does with a repeated suggestion.
Why change is guaranteed as long as you allow it.
What is hypnosis in reality?
Your choices, your behaviors and the way you model your life.
What hypnosis is absolutely not.
Why hypnosis is already part of your real life experience.
Be aware of "dancing squirrels" on TV!
Debunking more misinformation about hypnosis.
Frequencies and vibrations and whether they relate to hypnosis.
The four hypnotic streams of information.
Are your children really in deep hypnosis?
Something EVERY parent absolutely MUST know in order to protect their child.
A worrying example of utter cluelessness.
What cannot happen when you go into hypnosis?
How you can absolutely know that you are hypnotisable.
The facts about "relaxing" your mind.
Suggestion or direct experience? Which of these is more powerful?
What you absolutely need to know about words.
Should you listen to suggestions as you fall asleep?
The characteristics of absolutely the most powerful hypnosis.
Is sleep learning a fantasy or can you use it for real?
Stage hypnosis and what you must know about it.
Why your imagination is so useful.
How hypnotic inductions work.
What is "depth"? Depth fully explained.
The THREE great routes to self hypnosis.
Which route to self hypnosis is best for you?
The two core types of suggestion in hypnosis.
How to make hypnotic recordings for yourself.
Exactly at what times when to use "you" and not "I".
Ways to use suggestion that you MUST avoid.
What "smooth" suggestions are.
When you must use "smooth" suggestions.
"Stacking" of suggestions.
Where to use the "Emergence".
How you should speak if you make a recording for yourself.
The very best way to make changes.
What kinds of sentences to avoid.
A simple deepener and why you should absolutely use it.
When to use a deepener.
When to speak in a different way.
How to listen to a home recording.
The power you get from "Relaxed Imagining".
Physical reactions to things which do NOT exist.
The easy powerful instant self hypnosis you can use.
The one time that you don't need to use suggestion to create useful change.
Exactly when you should use the word "I" in a suggestion and not "you".
How you can combine suggestions with mental rehearsal.
What tense to use in your own suggestions.
Examples of such suggestions.
How you can avoid problems with mental chatter.
The most powerful single suggestion ever invented and why you should use it.
The way to get results from "self talk".
Understanding affirmations and knowing those which simply wouldn't work.
How some people sabotage themselves… and how easily YOU can avoid doing the same.
How to use self talk effectively.
At what time to repeat suggestions.
The essential link between relaxed focus, learning and hypnosis.
How hypnosis relates to the things you already know.
Footwear, clouds, mountains, flowers and dogs and why they can help you understand hypnosis.
How to make changes automatic.
Depth and how you can get it.
How depth and repetition relate to one another.
What prevents depth?
How to get the most from your own hypnosis.
What you cannot do with self hypnosis.
How to incorporate FREE PSTEC(TM) tools with self hypnosis.
Why special soundscapes can very useful for self hypnosis. (2 special soundscapes included)
How to use your special soundscapes.
Hypnosis in noisy locations.
Suggestions you can use to deal with intrusive sound.
Another way to deal with intrusive sound.
Implications of the sound of your own voice.
Ways you can get an accelerated start with self hypnosis.
The effect of physical relaxation on your self hypnosis.
A simple technique that you can practice for better hypnosis.
The best suggestion to include each time you experience hypnosis.
19 ways to assess a hypnotherapist if you want assistance.
How to guarantee your own success & also what to carefully watch out for.
Secret number 1 summarized.
Secret number 2 summarized.
Secret number 3 summarized.
Secret number 4 summarized.
Secret number 5 summarized.
Secret number 6 summarized.
Secret number 7 summarized.
Summary of key points.
Having had the privilege in the past to study the hypnosis videos and books from some of the greats in the hypnotherapy business like that of Gil Boyne, Dave Elman and Gerry Kein I can honestly state that the "Seven Secrets of Maximum Power of Self-Hypnosis" will be one of the hypnosis products which will be enjoyed by newly qualified and experienced hypnotists for years to come. Tim Phizackerley has created an incredible hypnosis product which will help many people to change their lives for the better. I dare anyone to find a more comprehensive hypnosis product about self-hypnosis. A truly outstanding hypnosis product!
Ian Smith
Quays Clinic of Hypnotherapy
https://quaysclinic.co.uk/
You'll learn all of this and more! And Tim shows you how to very easily apply this knowledge to yourself to create more happiness and success.
Plus…
You'll also receive a PDF document with a Special Induction, Deepener and Emergence
And TWO Special Self Hypnosis Soundscapes
Get "The Seven Secrets of Maximum Power Self Hypnosis" with immediate Download TODAY
Quick Summary
Approximately 2.5 hours of detailed tutorial to give you "Maximum Power Self Hypnosis"
PLUS! PDF with special induction, deepener and emergence scripts
Plus! 2 hours of special hypnosis soundscapes
That's a whopping 4.5 hours of Audio. (This means it's a big package so as you download this do make sure to get the whole thing.)
$49.77

No waiting… Instant Download and collection is quick and easy.
This can be with you in the next few minutes.
You can download it even if it's 3AM in the morning.
After you click to purchase this you'll be directed to a special page created just for you, where you can download this system immediately.
Everyone is different with unique priorities so results will vary person to person according to use.
Remember to follow the instructions fully to get the very best results.
Frequently Asked Questions
Click the arrow next to each question to expand and view the answer…
Can I use Self Hypnosis with other PSTEC Tracks, such as the Click Tracks and PSTEC Positive or should I stick with one or the other?
Creating your own Self Hypnosis recordings will definitely compliment your work with other PSTEC Tracks, such as the Click Tracks and PSTEC Positive and vice-versa. In fact, in the Self-Hypnosis Courses, Tim encourages you to use the Click Tracks for emotional issues that arise as you write and use your Self Hypnosis recordings.
I don't know anything about hypnosis so am I qualified to do Self Hypnosis?
Absolutely! Tim will be walking you through the entire process with "behind the scenes" tips to make your self hypnosis recordings very effective. Since you are doing "self hypnosis" and not doing it for someone else at this point, there are no qualifications needed, of course. You just need to know how to create effective recordings and Tim will help you!
Do I just download the hypnotic recording in the course and play it?
There is no hypnotic recording as a part of the course. The course teaches you how to record your own, personal, customized audio recording for self hypnosis. Tim includes a pdf template so you know what order to record the various part and also has included the induction, deepener and emergence parts. You just develop the suggestions you want to include in your recording and create the audio and then play it. Tim lays it all out for you.
Wouldn't a pre-recorded, general hypnotic recording be just as good as opposed to me writing and recording my script?
General hypnotic recordings can be effective for some but they are not tailored to the issues you hold in your subconscious. One size may fit a few, but, most definitely, one size does not fit all.
Tim is giving you the keys to create a turbo-charged hypnotic recording and it's "turbo-charged" because it's personalized for you based upon your subconscious model of reality and everyone's model of reality is different.
How many recordings can I create?
As many as you wish.
Just write the suggestions in accordance with Tim's lessons for as many scripts as you want and record each one.
You will get better and better as you write and record more and more scripts based upon your needs and desires.
Is there a limit to what kind of issues I can address with self hypnosis?
There is no limit to the types of issues you can address with self hypnosis. You are only limited by your imagination and your desire to shift your model of reality at the subconscious level.
The more varied the issues you practice with, the better you will become at writing and recording.