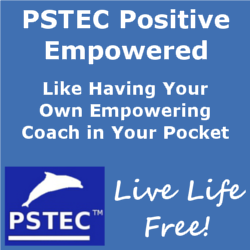 PSTEC isn't just about clearing out the "garbage". You also want to more success and that's why Tim used his extensive knowledge to create this special "no tapping" package.
There are two PSTEC packages relating to success.
Budgets vary so choose which suits you and your ambitions best, or get both. (The other, success package is a truly massive "tour de force" tutorial on success called "How to Achieve Almost Anything – the Easy Way")
This "Positive Empowered package (Priced at just $10) is different. It's a hypnotic route and an easy way to start. Positive Empowered is designed to give you a quick and easy route to change when you need it quickly and without too much study.
Combine this with the tutorial mentioned above, or use it on its own.
This affordable and powerful package contains a short and simple route to more success. You'll get an easy intro/tutorial and you'll also get the Positive Empowered hypnotic audio itself.
No study required. Just follow the simple instructions and use this as you need it.
(This is an mp3 audio download product)
Buy Now for ONLY $10.00